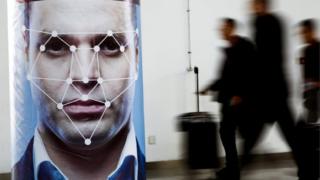 The police and other authorities should suspend use of automatic facial recognition technologies, according to an influential group of MPs.
The House of Commons' Science and Technology committee added there should be no further trials of the tech until relevant regulations were in place.
It raised accuracy and bias concerns.
And it warned that police forces were failing to edit a database of custody images to remove pictures of unconvicted individuals.
"It is unclear whether police forces are unaware of the requirement to review custody images every six years, or if they are simply 'struggling to comply'," the committee's report said.
"What is clear, however, is that they have not been afforded any earmarked resources to assist with the manual review and weeding process."
As a consequence, the MPs warned, innocent people's pictures might illegally be included in facial recognition "watch lists" that are used in public spaces by the police to stop and even arrest suspects.
The report comes a week after the Home Secretary Sajid Javid said he backed police trials of facial recognition systems.
More to follow