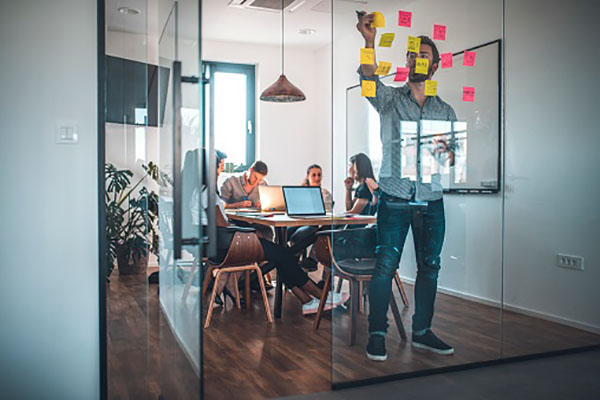 By AI Trends Staff
The AI World Conference & Expo in Boston, Oct. 23-25, will include a Startup Pavilion of companies showing innovation, promise and creativity as they pursue business opportunities in new ventures in AI and machine learning.
Here is a brief profile of each of the startups:
The AI Network of Ridgeway Partners
The AI Network was created by Ridgeway Partners, a global executive and board recruiting firm. The AI Network is a talent marketplace which uses AI to connect companies to the best  early-stage AI and data science talent. The firm has offices in New York, Boston, London and Hong Kong. Most of the recruiting work is based in the US and Europe, and the firm has completed assignments in Africa, the Middle East and Asia.
AI.Reverie is a simulation platform that trains AI to understand the world. Our platform offers tools to leverage the power of synthetic data to significantly improve the performance of mission critical vision algorithms. The firm recently announced a strategic partnership and investment from In-Q-Tel, the not-for-profit strategic investor that works to deliver innovative technology to US intelligence and defense agencies.The firm's website describes its team as, "Idea generators and problem solvers with a passion for creating a better world with AI." The company's services include the creation of virtual worlds with animation and the ability to run simulations that produce synthetic data.
AInfinity specializes in cutting-edge technology solutions that combine Artificial Intelligence and ITOps capabilities. Drawing on the industry knowledge and expertise of its parent company, Atlas Systems, AInfinity has launched an end-to-end solution focused on predicting IT infrastructure (OS, Network, DB, Middleware) issues and resolving them using its rich knowledge library. The AInfinity Knowledge Library includes runbooks,, use cases, business rules, workflow orchestration, and proven best practices for resolving a wide range of IT issues.
The BAU Global Education Network is comprised of higher education institutions spread around the world. This international network welcomes students from across the globe to study at a number of locations. Students and graduates of BAU Global form an academic community that spans many countries on four continents: North America, Europe, Africa, and Asia. BAU Global universities offer nearly two hundred undergraduate, graduate and doctoral programs in architecture, art, business administration, communication, design, economics, education, engineering, health sciences, information technology, law, medicine, and social sciences.
BAU Global develops global citizens who are committed to values that benefit the entire world. The institutions in this network not only meet the standards set forth by the accreditation bodies in their home countries, but are also highly ranked in the disciplines they offer.
CampTek Software is an RPA SaaS Provider offering a wide array of services to assist you anywhere on your RPA Journey. Our team of certified experts focus on Bot development, Bot Support and Hosted Support.  With over 15 years of experience supporting and developing RPA applications, we are the choice. CampTek's Software solutions include: Center of Excellence (COE), robot development, SaaS hosting and support, Windows and website automation, Citrix and remote desktop automation, support for Legacy Character-based systems, custom component creation and governance and architecture capabilities.
CapeStart is an outsourced data preparation services and software development firm that gives data-driven organizations the ability to offload tedious data tasks with confidence. Our mission is to provide you with reliable, knowledgeable and affordable solutions for resourcing your big data, machine learning, and artificial intelligence projects. The firm's campus is Nagercoil, India helps to support the development work. CapeStart is engaged in over 50 active projects for its clients in a range of industries, according to its website. One client hired CapeStart to measure the ROI of its public relations activities, by monitoring the media and performing services including data extraction, sentiment analysis and document transcription.
Capice offers machine learning for everyone, suggesting no technical training or programming background is required to create business models. The Capice AI services including algorithms are available via an API interface. The client provides the training data, as audio, video or text. The Caprice tools are used to address business problems using classification and prediction.
Daivergent, a Public Benefit Corporation, hires workers with autism and developmental disabilities. The firm offers: dedicated project managers with experience in ata and technology fields; a US-based workforce, sourced from universities and agencies in the US; handling of requests of any scale; performance guarantees. The Daivergent platform has a remote user base of 850 candidates and 18 corporate clients. The firm offers employees online training in programming languages including Python and SQL, graphic design, 3-D modeling and marketing, to help bolster career growth. The company works closely with agencies including AHRC in New York City, a nonprofit providing workshops, day treatment programs and job training for people with intellectual and developmental disabilities.
Firefly.ai puts the power of artificial intelligence in the hands of any business that aims to predict its future. With our automated machine learning platform, analysts can easily build predictive models to enhance every business decision. Clients engage in the following steps: prepare and analyze data, train hundreds of models, design visual reports and deploy the models. Predictive models offered include demand analysis, predictive maintenance, investment optimization, risk mitigation, sales forecasting and customer segmentation. Firefly.ai targets ordinary business users by offering easy access to AI and machine learning.
The best way to improve the accuracy of machine learning models is to increase the amount of labeled data ingested and/or re-label existing data, according to Jaxon.ai. Normally it takes months and massive amounts of manpower to get deep learning models trained with meaningful volumes of datasets. By the time the data is labeled, it is frequently already outdated. Jaxon aims to eliminate this bottleneck and allowing models to be updated continuously.
With self-adjusting pipelines, Jaxon is said to adapt to each organization's nuanced data and domain-specific terminology. Training sets are created using existing data, as well as new text streaming in from online and internal sources. Jaxon labels can train any text-based predictive model and can be used for document classification, recommenders, chatbots, customer insights and trend detection.
Kyndi offers an Explainable AI product and Intelligent Process Automation software platform for use by government, pharmaceutical, and financial services organizations. The product addresses the "black box" of Deep Learning, which restricts their use in regulated industries. The Kyndi platform scores the provenance and origin of each document it processes. Its Explainable AI software can be used with robotic process automation (RPA) tools to analyze text and automate inefficient workflows.
Lazarus uses patient health data to improve early cancer detection. By using its clinical decision support tools, physicians are said to be able to improve their diagnostic accuracy from 76% all the way up to 93%. The company uses deep learning and accesses millions of patient records. The company's business model is to sell test and subscriptions for physicians and hospitals, and selling anonymous datasets to insurance companies and research companies.
LiquidTechnology is a nationwide provider of IT Asset Management Services. The company specializes in performing data center clean-outs, de-installations, consolidations and moves. The firm's core competencies include: IT asset purchasing & brokerage, project management, compliant data destruction, chain of custody/ reverse logistics, as well as e-Stewards and R2 compliant e-Waste recycling.
ONTOFORCE offers to help customers transform siloed data into smart-linked data ecosystems to empower data-driven decision making. The company's linked data platform DISQOVER builds intelligent links between internal and external data sources, turning data into smart data. The software is installed on-premise or in the cloud. The company employs semantic search technology to help find insights into data. DISQOVER Public is a free resource with links to 145 different public data sources in biomedicine, enabling users to learn about the technology.
Openmetrick works to automated three activities critical to business success: end-to-end digitization of analytics, enterprise data government and business process virtualization. The firm seeks to disrupt the IT industry by cutting the chaos of current fragmented IT tools, and to eliminate mundate, IT-resource intensive methods. Its software platform, dubbed GRIP, offers business intelligence, performance measurement and business process integration. The company's Integration Metrics Platform secured a US patent in June 2018 enabling what the company calls the digitization of performance measurement, or a centralized metrics playbook.
PerceptiMed's advanced pharmacy automation technologies reduce prescription errors and improve pharmacy workflow productivity ─ from fill to will call. PerceptiMed's identRx™ uses artificial intelligence for pill verification, ensuring every pill placed into a prescription is correct and simultaneously serves as an ultra-accurate pill counter. IdentRx supports remote verification for telepharmacy. The products are designed to eliminate human errors in medication dispensing in pharmacies, long-term care facilities and hospitals.
Roborus offers AI-based kiosks that employ facial recognition to automatically identify customers in cafes, restaurants, and retail shops. The software platform uses face recognition technology to classify customers' data such as facial ID, gender, age, and 7 different moods. The machine learning system can provide guests with personalized services and is able to, for example, recommend specific menu items based on customer profile. The software gathers and analyzes data such as number of visits, consumption patterns and average spending, helping clients to enhance marketing efforts and increase sales.
TalentSeer uses AI to provide integrated talent acquisition, market research, and career mentorship services. With an engaged AI community and deep domain knowledge, TalentSeer has helped over 100 high tech companies from autonomous driving, to finance, and healthcare at various growth stages to build strong teams. AI engineers are overloaded with repetitive pitch messages. The firm employs insight-based and influence-based recruiting techniques, to produce insights on industry, business and career development.
TFiR is an abbreviation for The Fourth Industrial Revolution. The company publishes news, analysis, interviews, op-eds and tutorials covering emerging technologies and open source. The coverage addresses new technologies, new business models, tech culture and their impact on society. A recent newsletter issue included an update from Richard Stallman, the open source software movement activist and self-described "Chief GNUisance." Stallman announced the GNU Project's goals, principles and policies will make incremental and not radical changes. TFiR targets CXOs, developers/operators and enthusiasts, according to its website.
For more information, see AI World Sponsors.