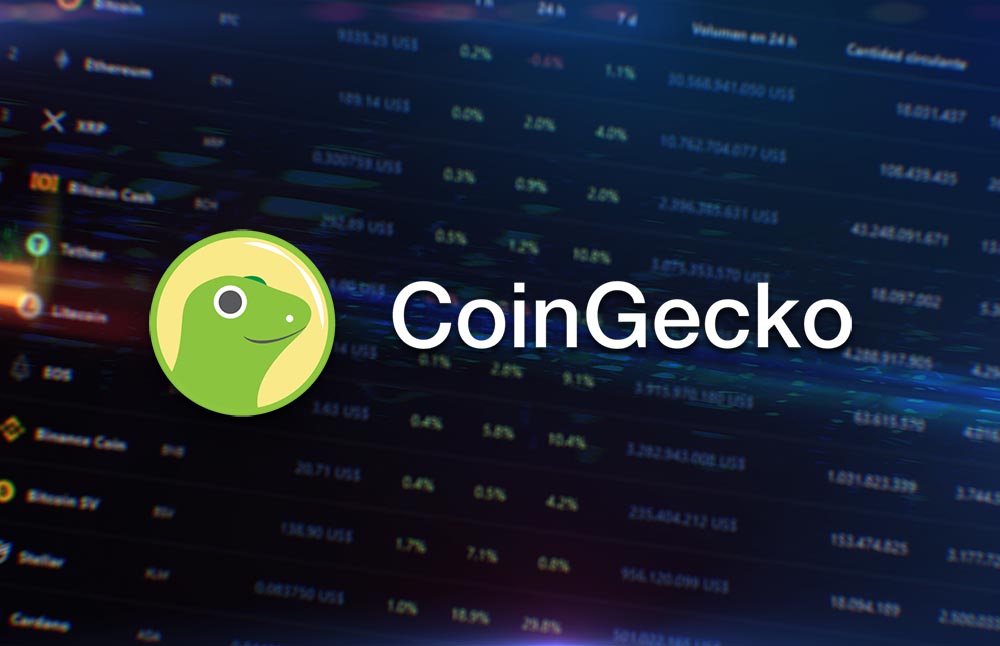 CoinGecko is a cryptocurrency market ranking website that ranks digital currencies based on several factors. Today, we're explaining everything you need to know about CoinGecko.
What is CoinGecko?
CoinGecko, found online at CoinGecko.com, is a website that provides a 360-degree market overview of the crypto space. Like CoinMarketCap, CoinGecko displays the top cryptocurrencies by trading volume, price, circulating supply, and other pertinent metrics.
Unlike CoinMarketCap, however, CoinGecko has certain additional customization options. You can rank cryptocurrencies by their price movement in the last 1h, for example. You can also instantly view the all-time highs of various cryptocurrencies.
CoinGecko also has a 'developer' section where you can view each cryptocurrency based on its recent development activity. You can check the number of stars, forks, watchers, and contributors for a particular cryptocurrency, for example. CoinGecko even displays a chart of commits over the last four weeks, making it easy to see how development activity has risen and fallen for each coin.
You can view similar metrics for each coin's social status (including the number of Reddit subscribers, Telegram users, Twitter followers, and Facebook likes).
Based on all of the above metrics, each coin is given a Gecko score. Bitcoin, for example, has a Developer Gecko score of 92% and a Social Gecko score of 82%, giving it a total score of 88%. The next highest coins are ETH (77%), XRP (71%), and BCH (71%).
For all of these reasons and more, many people prefer CoinGecko over CoinMarketCap and similar coin ranking websites. You can get the same ranking information at-glance, but you can also uncover so much more information besides the bitcoin price.
CoinGecko was launched in April 2014, making it one of the largest and oldest cryptocurrency data aggregators in the world. The company is based in Kuala Lumpur, Malaysia.
CoinGecko Features
Key features of CoinGecko include:
Top 100 Coins: CoinGecko lists the top 100 coins by market capitalization. You can view coins by their market cap in USD or dozens of other fiat currencies or cryptocurrencies.
Filter Coins by Hashing Algorithm: Want to only view tokens that use the Ethash hashing algorithm? Want to only compare delegated proof of stake tokens? With CoinGecko, you can filter coins based on a number of different factors.
Filter Coins by Platform: You can filter coins based on the platform on which they're built – like Stellar, Waves, or VeChain.
Filter Coins by Other Categories: You can filter coins by a number of other categories, including 'asset-backed tokens', 'communication', 'energy', 'gambling', and 'exchange-based tokens' among dozens of other metrics.
View All-Time High: CoinGecko lets you instantly view the all-time highs of major cryptocurrencies at a glance, including the drop in the value of that cryptocurrency since the all-time high and the date on which the all-time high was reached. You can easily compare the top 100 cryptocurrencies based on their all-time high. You can see that BTC reached its all-time high of $19,665.39 on December 16, 2017, for example, and has dropped 52.8% since that point. You can also see that BCH reached an all-time high of $3,785.82 on December 20, 2017, and has dropped 92.4% since that point.
Rank Coins By Developer Activity: One of the most popular features of CoinGecko is that you can view coin rankings based on developer activity. CoinGecko has charts that show the number of stars, forks, watchers, and contributors for any token project, for example, as well as the number of commits in the last four weeks. The chart of commit activity makes it easy to see which projects are growing in activity and which ones are shrinking. You may be surprised to learn that Monero (XMR) has the third-most contributors in the crypto space (behind only BTC and ETH) despite ranking 13th overall in the market cap.
Rank Coins By Social Activity: CoinGecko is also popular for its ability to rank coins by social activity. CoinGecko displays the number of Reddit subscribers, Telegram users, Facebook likes, and Twitter followers attached to a project. This isn't always perfect because certain coins – like bitcoin and – have no official Telegram or Facebook page. However, it provides at-a-glance information about which coins have thriving social communities.
Rank Coins by Blockchain Metrics: Finally, CoinGecko lets you compare coins by certain blockchain metrics. You can view the consensus mechanism used by each of the top 100 cryptocurrencies, for example, as well as the number of nodes, transactions per second, blocks, circulating supply, total supply, and percentage circulated. Few other coin comparison websites provide at-a-glance information like this.
View Derivatives Markets: CoinGecko lets you check derivatives markets, including the volume of bitcoin perpetual contracts, bitcoin futures contracts, and other crypto derivatives. You can see which exchanges are most popular, in which contracts are rising in volume and other information about crypto futures.
Derivative Market Info: CoinGecko also lets you check derivative markets for certain information. You can see the basis, spread, funding rate, open interest, and the 24-hour trading volume for each exchange with bitcoin futures contracts, for example.
Beam Updates: CoinGecko publishes 'beam updates', which include updates directly from the developers of each crypto project. You can choose to view updates only from specific categories. Or, you can view all updates from all projects.
Trending: CoinGecko lists trending cryptocurrencies, including large movers, high volume tokens, and recently added tokens.
Exchange Rankings: CoinGecko ranks exchanges by a number of metrics, including 24-hour trading volume (normalized and non-normalized), visits (from SimilarWeb), the number of coins, and the number of trading pairs. Each exchange also has a CoinGecko Trust Score. As of November 2019, six exchanges have a perfect 10 TrustScore, including Binance, Bitfinex, Kraken, KuCoin, Poloniex, and Bittrex.
Crypto News and Updates: CoinGecko has plenty of crypto research, news, and analysis available through its website, including coverage of recent events, API updates, professional studies and reports, newsletters, buzz reports, bitcoin halving schedules, and much more. If you want at-a-glance information about the latest updates in crypto, then CoinGecko is a great resource.
Coin-Specific Information: CoinGecko has individual profiles for each cryptocurrency. The individual profiles provide an overview of each currency. You can view links to the coin's website, block explorers, wallets, source code, and communities, for example. You can view a chart of the cryptocurrency's price movements over time, its recent blockchain activity, and much more.
Technical Analysis: CoinGecko automatically calculates technical analysis for each coin. This technical analysis is provided through TradingView. You can see that technical analysis over the last 15 minutes, for example, gives BTCUSDT a 'buy' signal based on 17 buy signals, 9 neutral signals, and 2 sell signals.
Mobile Apps: CoinGecko offers mobile apps for iOS or Android. The CoinGecko app lets you track 2,000+ crypto prices worldwide based on current trading volume.
Chrome Extension: CoinGecko has a Google Chrome extension that works in a similar way to CoinGecko's mobile apps.
Day and Night Mode: CoinGecko offers a day (light) and night (dark mode.
Multi-Language Support: CoinGecko is available in English, German, Spanish, French, Italian, Polish, Romanian, Hungarian, Dutch, Portuguese, Swedish, Vietnamese, Turkish, Russian, Korean, Japanese, Chinese, Arabic, Thai, Malay, and Indonesian.
Transparent About Methodology: CoinGecko publishes more information about its methodology than any other coin ranking website. The company is fully transparent about how coins are listed, for example, how exchange rankings are calculated, and how all other information on the site works.
No Listing Fees: CoinGecko doesn't charge coins any listing fees whatsoever. Coins must meet basic requirements to get listed (like a working website and whitepaper). CoinGecko lists over 6,000 digital tokens in total.
Gecko Scores: CoinGecko gives each token a total CoinGecko score based on its developer and social metrics. BTC, for example, has a total Gecko score of 88% because it scores 92% for developer metrics and 82% for social metrics.
How to Use CoinGecko
CoinGecko is straightforward to use. Just visit CoinGecko.com to get started.
The front page of the website features a list of the top 100 coins by market capitalization. CoinGecko uses USD by default. You can sort coins based on their price, trading volume, or circulating supply. You can also view 1h, 24h, and 7d price changes.
To view information about any specific coin, you can simply click on that coin from the list. Each coin's page features extensive information about its historic price movements, hashing algorithm, blockchain, and much more. It's more information than you find on the typical CoinMarketCap page.
CoinGecko has separate ranking pages for coins based on their all-time highs, developer metrics, social metrics, blockchains, and overall Gecko scores. Just click on any of the links from the CoinGecko page to view charts for each metric.
Want to filter coins by certain categories or criteria? You can do that by clicking on the 'Filter' tab. You can filter coins based on their hashing algorithm or platform, for example. You can also filter coins for specific categories – like communication tokens or gig economy tokens.
To view other information on CoinGecko, click on links along the top banner.
You can click 'Derivatives' to learn more about futures markets, for example. You can instantly view trading volume for various futures contracts, the funding rate, and 24h price changes, for example.
CoinGecko also ranks exchanges by trading volume, the number of coins, and the number of trading pairs. Click 'Exchanges' from the top banner to view exchange-specific information at a glance.
Other sections on the top banner include a general news section, which features updates from the CoinGecko blog and affiliated blogs.
There's also a 'Beam' section that highlights recent updates from major crypto development teams. If you want to filter out the noise and only view the latest updates from crypto developers, then the 'Beam' section is a great place to start.
The rest of the CoinGecko banner features links to comparisons, videos, events, crypto indices, bitcoin halving info, and more.
How Does CoinGecko Work?
CoinGecko works by connecting to major exchanges directly through APIs. CoinGecko takes data from these exchanges, then automatically publishes this data on its own website 24 hours a day, 7 days a week.
CoinGecko also collects data analysis from TradingView, the popular market analysis platform, along with certain other third party organizations (like SimilarWeb to track unique visits to each exchange website).
As of November 2019, CoinGecko lists 392 exchanges and 6,036 coins.
CoinGecko doesn't just take the raw data from each exchange and publish it. The platform uses its own internal formula to detect outliers and inaccurate data. Then, it publishes this information in colorful, easy-to-read charts.
Getting a token listed on CoinGecko is free. the company never charges any listing fees. To have a crypto asset listed on CoinGecko, you need to meet certain listing criteria. You must have a working website, working block explorer, a listing on an exchange with API support, and clear communication about available supply.
CoinGecko will also list an ICO if it has a working website, a fully transparent and identifiable team, and a whitepaper.
CoinGecko will list any exchange with a working exchange website, an accurate trading volume that matches the API, a working REST API documentation, and a representative with whom the team can communicate for any issues.
CoinGecko is completely transparent about its methodology. You can view the platform's methodology for tracking, charting, and ranking crypto assets here.
CoinGecko Pricing
CoinGecko is free to use. The website does not have a premium subscription option. The mobile apps and Chrome extension are also completely free.
Today, CoinGecko only features three advertisements on its main page.
At the bottom of CoinGecko's website, you'll find multiple donation links.
About CoinGecko
CoinGecko is based in Kuala Lumpur, Malaysia. The company was founded in April 2014.
Over the years, CoinGecko has made a name for offering professional research in a space that increasingly needs it. CoinGecko has partnered with Western University and Humboldt Universitat Zu Berlin to produce cryptocurrency research. CoinGecko's research has been published in books like the Handbook of Digital Currency and the Handbook of Blockchain, Digital Finance, and Inclusion.
CoinGecko is also supported by the Malaysian Global Innovation & Creativity Centre (MaGIC).
Key members of the CoinGecko team include TM Lee (Co-Founder) and Bobby Ong (Co-Founder).
Final Word
CoinGecko is so much more than just a coin comparison website. The site provides a fundamental analysis of crypto markets based on a number of factors.
In addition to tracking price, volume, and market cap, CoinGecko analyzes social metrics, developer activity, and on-chain metrics. With CoinGecko, users can easily access at-a-glance information about any particular crypto project and see how major crypto projects compare with the competition.
If you're looking for extensive information about coins, exchanges, derivatives markets, and more for the crypto space, then CoinGecko is one of the internet's best options.