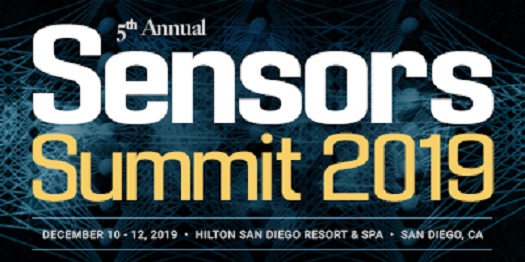 By AI Trends Staff
Sensors have become ubiquitous. Current advances in sensor technology are revolutionizing nearly every aspect of our society. But it's the symbiosis of sensors and AI that's so compelling.  By blending hardware and software, sensors can interact with the physical world and connect to the digital world. If this is the kind of thing that inspires you, here is just a sample of the speakers you'll want to hear this December 10-12 in San Diego at Sensors Summit 2019.—The Editors
Tuesday morning opens with the Plenary Session and the first one is from Rafael Carbunaru, Vice President R&D at Boston Scientific. Let him tell you how predictive analytics is changing the diagnostic game when it comes to the management of chronic conditions. It starts at 8:30.
Another Plenary address you'll want to be sure to hear is on Thursday morning. At 8:10 Newton Howard, Brain Sciences Foundation, Oxford University; Chairman, Board of Directors at ni2o, will introduce you to Kiwi. Kiwi is a minimally invasive micro-implant BCI. Nanotechnologies allow Kiwi to both record neural activity and stimulate neural tissue, creating possibilities for the treatment and care of multiple disorders, as well as research prospects.
Tuesday afternoon learn how machine learning is helping create a high standard for accuracy in new continuous glucose monitors (CGMs). Elaine Gee, Senior Principal Algorithm Development Engineer, Artificial Intelligence, Diabetes R&D at Medtronic, knows how important a large pool of data is when developing an optimal algorithm, like the one that underpins sensors of CGMs. Let her tell you more at 3:00.
Wednesday afternoon at 2:00 Jeremy Frank, Senior Vice President of Digital Medicine at Proteus Digital Health, will be on hand to explain how a digital medicine platform can help address a critical source of pharmaceutical failure in expected patient outcomes. A gap exists between patient-doctor interaction and patient behavior regarding prescription adherence. Frank will explain how the integration of medication with hardware, software, analytics, and services can bridge this.
Raman spectroscopy holds promise both as an investigative, as well as a diagnostic tool in identifying the molecular basis of disease. Gregory Auner, Director, Smart Sensors and Integrated Microsystems Program at Wayne State University, will tell you how, combined with Deep Learning algorithms, Raman spectroscopy can sense cancer, providing rapid diagnosis in multiple settings. Hear more Thursday morning at 10:00.
AI and 5G are set to profoundly affect multiple sectors, and healthcare is just one of the many that will be transformed by the combination of these technologies. Thursday afternoon at 1:30 John Mattison, Assistant Medical Director, Chief Health Information Officer, Kaiser Permanente; Faculty at Singularity University, will expound on the future of healthcare and intelligent connectivity.
Computers have been gaining the ability to sense, as well as interpret their environment. Karim Arabi, CEO of Atlazo, believes in the benefits of computer sensing and AI integration. Thursday afternoon at 4:30 hear what he thinks computer voice activation and contextual awareness mean for the future of health-tracking applications.
Let Luisa Bozano, Nanoscale Fabrication Group at IBM Almaden Research Center, tell you more about the different ways data analysis and machine learning allow IoT platforms to detect odors, including the methods employed to preprocess, model, and classify odorant patterns. Her review will be Thursday morning at 11:00. Dr. Bozano will also moderate a roundtable Wednesday morning at 10:30. She will guide a discussion /brainstorm session cataloguing best practices in AI, IoT, etc. Join the group at Table 2.
With new technologies come new challenges. MEMS-based products coming to market, and their companion integrated circuits, are frequently combined into systems on flexible substrates.  The systems are increasingly complex and require special hardware. Mary Ann Maher, Founder & CEO at SoftMEMS, will discuss the obstacles impeding innovative MEMS design, focusing on those complex MEMS systems. She will take you through modeling and simulation, beginning with sensor design and ending with the sensor data used to enable AI algorithms for IoT applications. Find out more about MEMS-based sensors Thursday afternoon at 4:00.
Thursday morning learn about the BioACER sensor. This is a completely novel way to remotely collect biological samples. The unmanned sensor in development, deployed in a plume, will be able to collect, prepare, identify, and accurately report biological aerosols within fifteen minutes. Cory Bernhards, Research Microbiologist, CBR, Defense Threat Reduction Agency, can tell you more at 11:30.
Are you interested in learning how to build an edge device? The rapid influx of IoT devices has led to a growing need for edge devices. Thursday afternoon at 1:30 Sai Yamanoor, IoT R&D Applications Engineer at Praxair, and Srihari Yamanoor will present the different hardware and software toolsets available to build an edge device. They will walk you through the steps involved in creating an edge device and examine the challenges related to its building and testing.
Data without context is of limited value, regardless of the amount generated. Thursday afternoon at 3:30 Sujay Kakarmath, Digital Health Scientist at Partners HealthCare Pivot Labs, can explain how data gleaned from EMRs is helping healthcare IoT devices work better.
Thursday afternoon at 2:00 moderator Laura Kassovic, CEO & Co-Founder at Mbientlab, along with panelist Tilak Kasturi, Founder & CEO at Predii, will guide you through the importance of the right data management tools to fully benefit from the AI and IoT-enabled sensors transforming the field. They will educate you on data management best practices that will enable you to protect your investment. Then learn about using advanced analytics and machine learning.
Don't forget about the roundtables or the tutorials while you're there. They all promise to be exciting, but here are a few you don't want to miss. Roundtable discussions start at 10:30 Tuesday and Wednesday morning.
Wednesday Luisa Bozano, Manager, Nanoscale Fabrication Group at IBM Almaden Research Center, will moderate a roundtable discussion about best practices in Artificial Intelligence (AI), Internet of Things (IoT), Machine Learning, etc. Come to Table 2 with your own questions and comments.
Stop by Table 4 where Ashish V. Pattekar, Principal Scientist at PARC, a Xerox Company, will be tackling a lot of questions about what could be coming next for sensors. One that might interest you is whether AI and machine learning can help us get even more information from sensors by using those initial values to infer additional parameters. This roundtable is also Wednesday morning.
YuFeng Yvonne Chan, Associate Professor & Director Digital Health, Genetics & Genomic Sciences & Emergency Medicine at Icahn School of Medicine at Mount Sinai, and Maurizio Macagno, CTO & Co-Founder at Sensoria, Inc, will co-present a tutorial focusing on digital health. Dr Chan, principal investigator of the Mount Sinai Asthma Mobile Health Study, will share her experiences. The remote observation study that enrolled <10,000 participants from three countries was powered by Apple's ResearchKit framework. Macagno will explain how remote monitoring is making both patients and providers happy. Learn more about how sensors have allowed the aging population greater independence and improved healthcare for the homebound.
Learn more and register at Sensors Summit 2019.