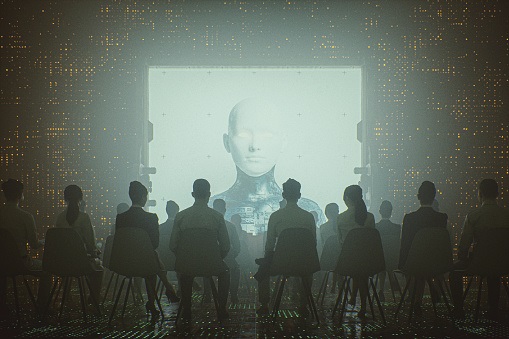 By John P. Desmond, AI Trends Editor
Whenever I interview IT executives with AI responsibility, I like to ask them for their advice for young people or mid-career people who want to speed the learning curve on how AI can help their business and their careers.
One of my favorite responses came from Dawn Fitzgerald, Director of Digital Transformation, Data Center Operations for Schneider Electric. (She recently spoke on Digitizing the Data Center at AI World 2019 in Boston.) I had asked her how—after getting her education in electrical engineering, computer systems engineering and also earning an MBA—she learned about AI. She said, "AI is and will continue to be so pervasive that individuals in different fields need to bootstrap themselves, take as many courses as possible, do workshop with AI vendors, try self-starting efforts. Many companies will support their employees in this AI education."
"Bootstrap" is a word that means using existing resources to exploit an opportunity. The resources may be minimal; the effort takes initiative. The word has its origin in the looped strap that helps to pull a boot on.
Education is expensive. Students are looking for alternatives. Traditional education channels are challenged to respond to the demand for AI skills. Industry research indicates that the lack of AI skills is the primary reason companies are unable to achieve business value with AI. We face a skills gap.
To help you with your AI education bootstrap, here is an update on selected options for workers to travel up the learning curve.
Short, Online Courses from Prestigious Universities
MIT Sloan School of Management working with the MIT Computer Science and AI Lab (CSAIL), offers a six-week online course for $3,200 to "Artificial Intelligence: Implications for Business Strategy." The course offers six modules: Introduction to AI, Machine Learning in Business, Natural Language Processing in Business, Robotics in Business, AI in Business and Society and the Future of AI.
Faculty directors are Thomas Malone, the Patrick J McGovern (1959) Professor of Management, and Founding Director of the MIT Center for Collective Intelligence; and Daniela Rus, Director of the MIT Computer Science and Artificial Intelligence Laboratory (CSAIL).
Harvard's Division of Continuing Education offers a two-day seminar entitled "AI in Business: Creating Value with Machine Learning," taught by Dr. Mark Esposito, teacher of Business, Government and Society for the division. The fee for 2020 is $2,895; participants get a certificate of participation. Topics include: converging technologies, machine learning, deep learning and natural language processing.
Free Options
Free online AI courses are available from Google with Google AI and Google Machine Learning, according to a 2018 account in Forbes.  Stanford University offers a free online AI course, "Machine Learning," taught by Andrew Ng, computer scientist, founder of Coursera and entrepreneur. Over 2.6 million people have enrolled in this course; it has over 29,000 reviews. Students have the option of paying for a certification. The course covers machine learning implementations such as speech recognition, and goes into some technical depth on some statistics topics, including back propagation methods through which neural networks "learn."
NVIDIA, the maker of graphics processing unit (GPU) chips that have fueled with the rise of AI with their power and speed. "Fundamentals of Deep Learning for Computer Vision" covers the technical fundamentals and now to identify business problems that can benefit from the application of object recognition and image classification. A final assessment involves building and deploying a neural net application; students can expect to spend about eight hours on the material.
The NVIDIA Deep Learning Institute, founded in 2016, has trained more than 183,000 students in fundamental and advanced AI topics.
MIT Offers "Deep Learning for Self-Driving Cars," an introduction to deep learning through the applied theme of building a self-driving car. It meets Jan. 7 through Jan. 18, every day at 3 pm,  in a classroom on campus. The course is open to beginners and those new to machine learning, and it can benefit advanced researchers looking for a practical overview of deep learning methods and their application.
Given that getting to class in person may not be a realistic option for many professionals seeking continuing education, online options are proving popular. Enrollment in HBS Online, Harvard Business School's online education program, spike 70% in the first months of 2019. Maybe it was the rebranding. Formerly known as HBX, the program offered credentials and certifications from the Business School to graduates. This program had more than 8,000 participants in fiscal year 2017, the most recent data available. Since its inception in 2014, the online program has seen 40,000 people complete a course.
Established Online AI Training
Coursera offers over 3,000 courses across Business, Technology, and Data Science skills. The online learning platform was founded by Stanford professors Andrew Ng and Daphne Koller to offer massive open online courses (MOOC), specializations, and degrees. Coursera works with universities and other organizations to offer degrees in subjects including engineering, mathematics. and computer science.
Coursera hit a value of over $1 billion in 2019, with its growth tracking the growth in online education. Its competitor, Udacity, has not had such a good year, laying off 20% of its workforce in the spring of 2019, with the aim of curbing costs and expanding its business focus on "nano degrees," according to an account in TechCrunch.
[Ed. Note: Let me know what AI education options appeal to you as a reader. Write to me at jd@aiworld.com. Regards, JPD.]