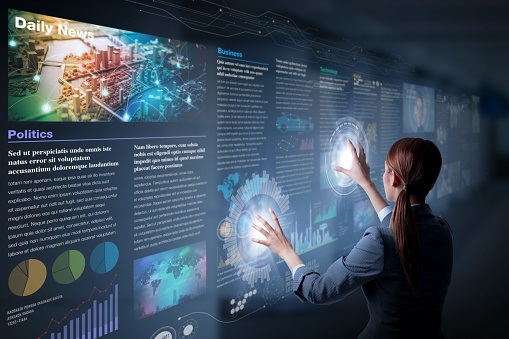 Contributed Commentary by Ivan Yamshchikov, ABBYY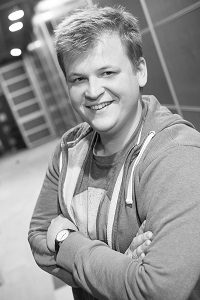 The goal to be a data-driven organization has been a rallying cry for enterprises for the past decade. The aspiration is to leverage content to gain powerful insights into ways businesses can better serve customers, improve operational efficiency and respond to market dynamics faster. However, these efforts have come up short and have not been attainable at the promised level—until now.
Advances in AI technology are enabling organizations to maximize the value of their content.
Getting Content AI Ready
Most future-focused enterprises have already solved the problem of data to a large extent. They know how to digitize it with advanced OCR technology and store it within CRM, BPM, and ERP systems, which is the first step for readying content for AI. They also have successful use cases of applying machine learning to make the processing into systems more efficient, such as in the processing of invoices.
Formtran, for example, is a systems integrator that digitizes and processes more than 50 million pages per year of various types of unstructured documents, such as invoices, real estate documents, and check and wire transfer documents. They do this for global organizations in consumer goods, financial services and ecommerce, and illustrate how businesses are digitizing and transforming unstructured data in order to maximize the value of content and information assets.
After digitization, data is ready to be infused with a set of technologies known as content intelligence (or content IQ) that use AI to carry out tasks such as reading and categorizing a document, routing a document, extracting and validating data from documents, and other tasks related to understanding and processing unstructured content. Content intelligence is flourishing with companies expecting to increase spend on these technology over the next year by 31%.
By incorporating content IQ, organizations are able to make quicker, more accurate decisions and deliver greater business value. These technologies include computer vision, machine learning, natural language processing and content analytics.
Factors Driving Content Intelligence
Within the past few years, the biggest demand for AI was in the automation of repetitive tasks via robotic process automation (RPA) software robots, or digital workers. However, organizations are now demanding greater insights from their complex and semi-structured data-streams other than simplistic automation.
To understand the need and drivers for content IQ, leading research firm IDC conducted a global survey among 500 IT executives. Respondents indicated manual sorting and classification of documents, manual data extraction from documents, inadequate compliance with security/privacy regulations, and poor data, errors, and inaccuracy of information as top pain points that content IQ can address (see chart).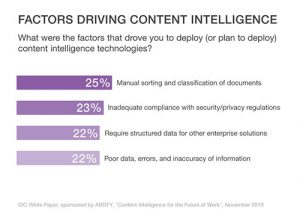 These pain points highlight that poorly managed, unstructured content leads to lack of customer information, which in turn leads to inadequate data to support decision making. Furthermore, lack of control over content can leave sensitive data vulnerable to risk and fraud.
Business Benefits of Content Intelligence
The IDC survey also found there are a number of benefits by deploying content IQ, ranging from increased employee productivity to increased customer satisfaction. Over one-third of respondents saw an improvement in responsiveness to customers, new product or revenue opportunities, increased visibility and/or accountability, or increased customer engagement.
For example, solution integrator Ripcord is leveraging content IQ technology for Coca-Cola Bottlers' Sales and Services (CCBSS). Ripcord is digitizing millions of proof of delivery documents for CCBSS's key fulfillment and logistics records using RPA and intelligent capture. Its chief procurement officer says the company will increase operational efficiencies, customer service, and add innovative value and contribute to financial risk mitigation for their bottling partners by using these technologies.
Another notable business benefit is it can be used to augment human labor. Content IQ fosters a new era of human-machine collaboration where machines will increasingly perform cognitive skills such as evaluating information, reasoning, and decision-making and administering (see chart). In fact, IDC estimates digital workers will increase by 50% within the next two years.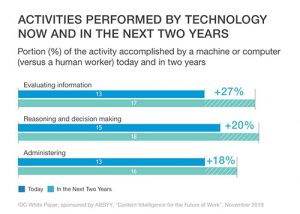 The increase in digital workers enables organizations to redirect human workers to higher-value tasks. With invoices, for example, machines can transfer data from invoices into ERP systems and authorize it for payment when all conditions are met. Staff are then able to investigate and expedite any exceptions to ensure delays are minimized. The great thing about content IQ is its machine learning capabilities learn how to handle exceptions over time. There is a clear adoption trajectory​ as the system evolves and learns. Machine augmentation becomes the source of additional data and further improvement for the AI algorithms that enable the transfer from an augmented process to an automated process.
Need for CEO Support
For content intelligence and any AI initiative to be successful, there must be a strong vision and support from the C-suite. According to IDC, a lack of upper management support along with siloed business units and disparate legacy systems were all barriers to executing content IQ.
The good news is that most organizations are realizing the importance of senior management buy-in and that content intelligence is imperative to make their digital transformation successful. Seventy-eight percent of IDC's respondents said the CEO was the top decision maker for content IQ, and half also included the CIO, followed by the CTO and chief digital officer as decision makers along with line of business executives. Furthermore, there is a growing trend among organizations to create a center of excellence (COE) which embodies key stakeholders for identifying and deploying AI initiatives.
Content IQ opportunities are omnipresent across all industries, with the most spending taking place among industries heavy laden with content such as financial services, transportation and logistics, insurance, and healthcare. It is also beneficial in horizontal business processes such as invoice processing, customer onboarding, claims processing and wherever you would connect customer-facing applications, such as mobile apps and chat bots, with backend systems. A common scenario is an organization will incorporate content IQ in a finance function and the project lead, amazed by the results, evangelizes the benefits with other business functions. They are able to transfer results and methods from one application to another in a straightforward manner making deployment faster.
Successful organizations will understand the need for AI in content and embrace the opportunities within their business processes. IDC provides three tips to ensure your content IQ investment goes smooth: invest in modular, enterprise wide digital platforms; develop a strategy for ongoing training and development of employees to ensure they have the digital skills set; and think human-machine collaboration as the new normal.
Ivan Yamschchikov is AI Evangelist at ABBYY. He currently works as a Post-Doc Researcher at the Max Planck Institute for Mathematics in Germany.  Ivan received a PhD from Technical University Cottbus-Senftberg, Germany and MSc in Mathematical Physics from Saint-Petersburg State University, Russia. He is fluent in English, Russian and German with good knowledge of Bulgarian, French, Japanese and Swedish. He can be reached at ivan.yamshchikov@abbyy.com.