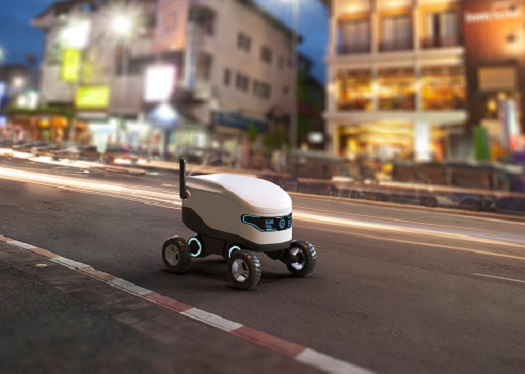 By AI Trends Staff
Delivery robots incorporating AI are on the march, being deployed more widely on the ground, sometimes crowding sidewalks. Here is an update.
Delivery robot providers include Starship Technologies, a startup created by Janus Friis and Ahti Heinla, founders of Skype. The company offers a general-purpose home delivery robot that today is an array of cameras and GPS sensors, but in the future will include microphones, speaker, and the ability via AI-driven natural language processing, to talk to customers. Since 2016, Starship has carried out 50,000 delivers in over 100 cities across 20 countries, according to an account in SingularityHub written by Dr. Peter H. Diamandis, the founder of Singularity University and the founder and executive chairman of the XPrize Foundation.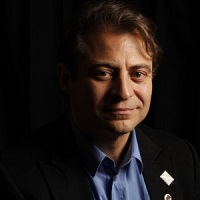 Another startup delivery provider is Nuro, co-founded by Jiajun Zhu, an engineer who helped develop Google's self-driving car. The Nuro, looking like a toaster on wheels, is designed to carry about 12 bags of groceries in version 1. The company has been working in select Kroger stories since 2018, and partnered with Domino's in 2019.
Retailers will be under pressure to save money on labor by using robots, Diamandis asserts. The US minimum wage is projected to be $15/hour by 2024; on Jan. 1, 2020, federal minimum wage will increase to $12/hour. Most states have historically set higher minimum wages than the federal standard, which was at $7.25/hour for many years.
The numbers make it tough for retailers to avoid employing more robots. "Robots work 24-7. They never take a day off, never need a bathroom break, health insurance, or parental leave," Diamandis stated.
This is altering our relationship with commerce.
Starship Technologies Has Raised $85 Million So Far
Starship Technologies in August 2019 raised $40 million in private funding that they plan to use to deploy thousands of its autonomous six-wheeled delivery robots on college campuses around the country over the next two years, according to an account in The Verge. The San Francisco startup's robots have been tested in over 100 cities in 20 countries, traveling 350,000 miles, crossing 4 million streets and recently completing delivery number 100,000. College campuses have many walking paths, well-defined boundaries and students with smartphones.
Starship works closely with college administrations, including at George Mason University, Northern Arizona University, the University of Pittsburgh, and Purdue University. The company plans to deploy 25 to 50 robots at each campus, which implies more than 5,000 robots running around the schools by 2021.
The trunk of the electric robot can fit about 20 pounds of cargo and has a suite of cameras around the outside that guide the robot. The delivery radius is three to four miles; the maximum speed is 4 mph, slower than delivery by a human on a bike or in a car. Starship CEO Lex Bayer stated students might even prefer the robot over a fellow student making deliveries. "There's no guilt or shame," he stated.
Starship has now raised a total of $85 million. The company charges $1.99 per delivery. Competition is from human delivery firms including DoorDash and Postmates.
Postmates is not standing still however. The company is identified in an account in TechRepublic as among the top five of delivery companies, along with Starship. The Postmates Serve robot has humanoid eyes that change to help people on the sidewalk understand where it wants to go next. The robot was being tested in Los Angeles in 2019; the expectation is that it could be used to replace human delivery workers.
Another top five entry is startup Nuro, which offers an autonomous small delivery van that drives on regular roads. It has heated and chilled compartments for delivering groceries. Testing started at a grocery store in Scottsdale in 2019 and later expanded to two grocery stores in Houston.
The rest of the top five is populated by the majors: Amazon with Scout and FedEx with the SameDay Bot, designed by Dean Kamen, inventor of the Segway. Testing was happening at the FedEx headquarters in Memphis in 2019. Amazon Scout conducted testing in 2019 in Washington state.
Robots Need to Be Well-Behaved on Crowded Sidewalks
While delivery robots vie for space on public sidewalks, they may free up the roadways a bit, suggests an account in Scientific American.  A study by Mobility Lab, a transportation policy research center in Arlington, Va. and George Mason University found 73% of freight and delivery vehicles in Arlington were parked outside authorized areas, often blocking bike lanes, fire hydrants, and crosswalks. By moving the last leg of deliveries from the road to the sidewalk, cities could reduce congestion and eliminate the parking problem entirely, suggested Paul Mackie, director of research at Mobility.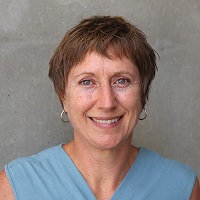 That assumes the sidewalk will have room for the delivery robots. To gain trust, the robots need to demonstrate they can safely share pedestrian spaces, suggests Renia Ehrenfeucht, chair of the Community and Regional Planning Department at The University of New Mexico in Albuquerque, and co-author of the book Sidewalks: Conflict and Negotiation in Public Space.
"It's actually really hard to navigate crowded sidewalks and not bump into people, and do it smoothly," Ehrenfeucht says. "Until delivery robots are that skilled, if they could be, they will be disruptive."
Read the source articles in SingularityHub, The Verge, TechRepublic and  Scientific American.