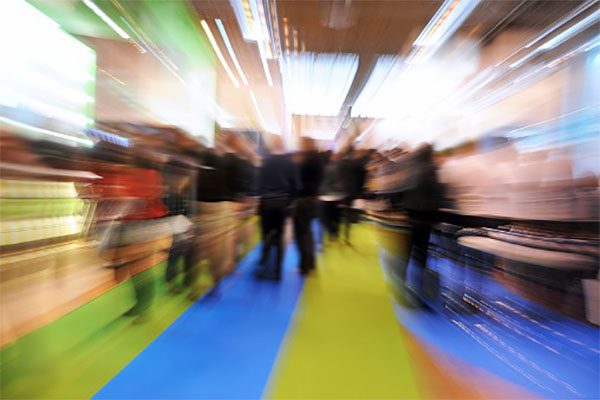 By AI Trends Staff
AI was showcased in many areas at the recent CES trade show in Las Vegas, attended by over 4,400 exhibitors and 170,000 attendees.
In manufacturing, the majors were showing off their AI prowess.
A new washing machine from LG Electronics uses AI to precisely clean clothes. Internal sensors in the AI DD washer detect the load volume and weight as well as the clothing fabric, according to an account in the WSJ Pro. The washing machine's AI models then compare those details against 20,000 data points to determine the optimal cycle settings for the laundry. A load of T-shirts and pants needs a certain type of wash, temperature and wash time for best results; the AI figures it out and sets it.
John Deere & Co. showed off its See & Spray machine pulled behind a tractor, using vision and machine learning to detect weeds and determine plant health. See & Spray came with Deere's acquisition of Blue River Technology in 2017 for $305 million. The technology is said to help reduce agrochemical use. The company is suggesting farmers can save up to $30 per acre by using See & Spray. "We've got AI in production, on machines, today and there is more coming," stated John Stone, senior vice president for the Intelligent Solutions Group at Deere.
Mercedes-Benz is developing an AI system for its Sprinter vans to assist workers in loading packages in an optimal way. Expected to be available within a year, Coros—"cargo recognition and organization system"—is intended to help with "last-mile" logistics. Cameras in the van cargo section read package barcodes, then refer to a model that assesses the package size and where it best belongs. A blue light comes on in the shelf section where the package should be placed. The system identifies the package when it is being picked up for delivery as well. If a package does not belong in a vehicle, red lights come on. The hope is to optimize package loading and reduce training costs.
Innovations Exploiting the Power of AI
Innovations were on display among the many exhibitors at CES. An account in Forbes highlighted a selection, including:
Whisk, a smart food platform acquired by Samsung's innovation-focused subsidiary Samsung Next earlier this year, is now capable of scanning the contents of your refrigerator and suggesting dishes to cook. The AI model refers to research from over 100 nutritionists, food scientists, engineers, and retailers. The company suggests the technology will also help to reduce food waste.
Wiser from Schneider Electric is a small device that monitors energy use by each home appliance in real-time. It installs in the home circuit breaker box; its machine learning models are aimed at optimizing savings, including for solar systems.
A vital signs monitoring app from Binah.ai analyzes a person's face to detect medical insights. The app detects oxygen saturation, respiration rate, heart rate variability and mental stress. Plans are to add monitoring for hemoglobin levels and blood pressure.
Robots Extending into Homes, Humanoid Forms
Interesting robots incorporating AI was the focus of an account from CES from TechRepublic; including the following examples.
Samsung's Ballie, still a research project, is a tennis ball-sized life companion, reported ZDNet. Ballie is a small, round, rolling robot designed to support, understand, and react to the needs of its owner, specifically in households. Ballie's AI capabilities use sensors and data within the home to attempt an immersive experience. The device will be designed to be able to connect with and control other smart devices in the home.
Graphics chipmaker NVIDIA showed its reach in robotics at CES, with its GPU chips used in a number of innovative robots. For example, Toyota's new humanoid robot T-HR3, along with its Jetson AGX Xavier computer. The T-HR3 uses advanced synchronization and master maneuvering to move smoothly and control the force of its body. The system is controlled by a human operator wearing a virtual reality (VR) headset. T-HR3 receives the data through augmented video and perception data via a NVIDIA's Jetson AGX Xavier computer within the robot, according to a NVIDIA blog post.
Other NVIDIA-powered robots at CES, cited in an account in ZDNet, included an autonomous wheelchair from WHILL powered by a Jetson TX2, a home security drone from Sunflower Labs, a delivery robot from PostMates and an inspection snake robot from Sarcos.
Read the source articles in WSJ Pro, Forbes and   TechRepublic.