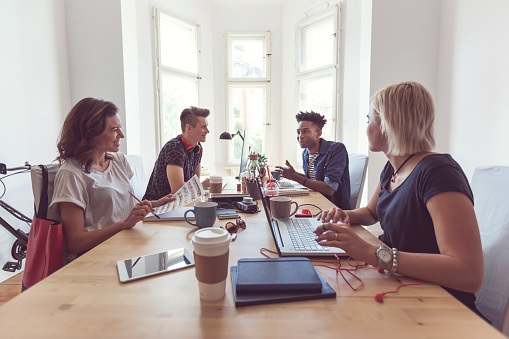 Contributed Commentary by Rahim Rasool, Data Science Dojo
The simplest way to think about Artificial Intelligence is in the context of a human. It forms systems that work intelligently and independently. It can perform in complex environments, autonomously, and adapts to that environment by learning. From SIRI to self-driving cars, AI has taken the world by storm and has the potential to disrupt nearly every sector one can think of. AI has disrupted nearly every industry to boost efficiency in this competitive market. As part of our education program efforts, we prepared a list of 10 emerging companies in AI that in our judgement harnessing the true power of AI to make our lives easier and more efficient.
Nuro:
Founded by ex-employees of Google who worked as principal engineers, Dave Ferguson and Jiajun Zhu founded Nuro in 2016. Nuro is focused on deliveries, specifically the ones that are low-speed, local, and last-mile. This includes groceries, laundry, or your food take-out order. It's targeting to design a new type of vehicle altogether rather than reconfiguring autonomous vehicles. Nuro launched its electric-powered vehicle, the R1, in 2018 and hopes the R1 will present retailers, both large and small, with an eco-friendly, on-demand delivery alternative whose cost notably does not include paying a driver.
Lemonade:
Who doesn't like lemonade? I bet all of us have some time in our childhood days setup the stalls to sell lemonade. How simple the name sounds and easy to grasp, so is this AI startup that is changing the way how we use insurance claims. Lemonade sells renters and homeowners insurance. It is a licensed policy carrier itself. It uses a chatbot to collect customer information and work through claims—30% of which don't require human involvement to be resolved. It has managed to attract first-time insurance buyers, and its total pool of customers has reached half a million. They take a fixed fee from your premium, use the remainder to pay claims, and unclaimed premiums go to a charity designated by the user. They've achieved a 3-sec world record claim handling.
Scale:
Scale was founded by 22-year-old Alex Wang, an MIT college dropout. Scale is a labeling data platform that takes a first pass at marking up pictures before handing them off to a network of some 30,000 contract workers, who then perform the finishing touches. Scale is primarily setting its eyes on the autonomous vehicle market which is expected to reach $77 billion by 2035. Companies are using Scale to turn raw information into human-annotated training data. Scale's workforce will label their text, audio, images, and videos to power the customer's AI applications. According to Scale's website, "Scale uses a combination of high-quality human task work, smart tools, statistical confidence checks, and machine learning to consistently return scalable, precise data." With this human-in-the-loop strategy, Scale ensures that the data it is offering is accurate and free of bias. Some of their clients include big names like Uber, Waymo, and Airbnb.
Verkada: 
Carving out space in the security market, this cloud-connected security camera is equipped with AI-driven features like object and movement detection. As stated on its website, "Verkada brings the ease of use that consumer security cameras provide, to the levels of scale and protection that businesses require. By building high-end hardware on an intuitive, software platform, modern enterprises can strengthen the safety and productivity of their surveillance operations." What does this mean? Verkada creates state-of-the-art security cameras that leverage modern software to keep your employees, customers, and business safe. The company's wide-ranging list of clients includes fitness club Equinox, Vancouver Mall and more than 500 school districts, which use the cameras for anything from monitoring student safety to tracking food deliveries.
PathAI: 
It will be unfair not to include one of the leading companies in the medical industry. It aims to advance pathology with machine learning and deep learning techniques that predict the optimal treatment for a given patient based on all the data you can extract from that patient. PathAI wants to use AI to make pathologists more accurate in their diagnoses and to help guide the right treatment of diseases like cancer. Working with leading life science companies and researchers, they also aim to use AI to help pathologists better predict how patients will respond to their therapy based on the characteristics of their tissue.
Standard Cognition:
We all have envisioned a future where one can walk into a retail store, pick up items and simply walk out without interacting with any store employee or without being observed by any human altogether. Well, we are almost there! With a valuation of over half a billion, Standard Cognition has opened a pop-up store in San Francisco where one can experience this futuristic technology at work. The company uses overhead cameras to track individuals and items continuously, therefore, allowing shoppers to pick up items and check out without scanning using Standard Cognition's autonomous checkout system. The company has said that it works to anonymize customer's data, so there isn't any kind of product tracking that might chase you around the Internet that you might find on other platforms.
Brain Corp.:
"Anything with wheels can be turned into a fully autonomous, self-driving robot using the BrainOS operating system, provided that the speeds are slow and stopping is never a safety concern…" said Eugene Izhikevich, Brain Corp.'s CEO. Brain Corp wants machinery to be run by robotic software. They started with floor-sweepers, considering it as a good place to begin because they operate indoors, work in a controlled environment, and are a market that is ripe for disruption. The CEO believes his company can be as central to the robotic revolution as Microsoft was to personal computers. They have raised over $125 million in funding from organizations including Qualcomm and Softbank.
Blue Hexagon:
The company offers real-time threat detection platform using deep learning technologies. The company claims that it can detect and block threats in under a second. Blue Hexagon earned a perfect score in the network threat protection by the independent malware testing lab PCSL, with a 100% detection efficacy, 0% false-positive rate, and 125 ms average detection time. The company's platform addresses the limitations of perimeter defenses like intrusion detection systems (IDS) and sandboxes that cannot keep up with the daily onslaught of malicious malware variants. Their models are frequently learning patterns in connections from attackers.
Aira:
The high-paced developments in AI offer a lot of promising features that may positively impact many lives, especially in the area of assistive technology. Aira (Artificial Intelligence and remote assistance) is leveraging AI to assist the visually impaired in the most effective manner. With big ambitions to soon launch computer-vision-based navigation, Aira helps people with vision problems to better see the world. It combines real human beings with an AI-powered agent through its app or custom smart glasses. At the grocery store chains like Wegmans, for instance, blind and low-vision shoppers can activate the Aira app to connect them with professionals who help them move around the store, find what they want, and direct them to the shortest checkout lines.
ClimaCell:
Weather forecasting is among those areas that AI promised to tackle. ClimaCell is attempting to lead in this regard. Unlike most forecasting apps, ClimaCell ensures highly accurate street-by-street, minute-by-minute forecasts. It uses data collected from connected cars, airplanes, drones, and IoT devices and combines that with other meteorological sources to create a more up-to-date and a fine-grained view of the weather around you. According to the company, its correct forecast of the severity of the Chicago snowstorm, in the previous year, allowed one airline to better manage its schedules and minimize losses stemming from delays and diversions.
Rahim Rasool is an Associate Data Scientist at Data Science Dojo where he assists in creating educational content for its data science bootcamp. Rahim holds a bachelor's in electrical engineering from National University of Sciences and Technology. He possesses a great interest in machine learning, astronomy, and history.